Selling Residential, Commercial, Land & Remote properties in Wrangell and surrounding areas.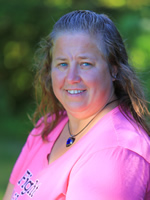 Kathleen Harding
My name is Kathleen, but if you ask around town, don't be surprised if they say, "oh, you mean Toot". How I got my nickname used to be an embarrassing question for me, but it's not anymore, so ask away, when we meet in person. I am often asked if I was born here. The answer is no, but I might as well have been. My parents moved here from California when I was only 5 months old. I grew up here and graduated in 1986. I have watched people come and go. It seems like they can't wait to leave, but as soon as they do, they can't wait to come back. Wrangell has a way of getting into your soul.
I have been married to my husband for 26 years. We have raised two beautiful children here. When the kids were growing up, I coached their little league teams, and coached high school softball for 8 years. We love to take advantage of the many outdoor opportunities available to us. Camping, fishing, hiking, golf and exploring our island on our quads, are just a few things that keep us busy.
Often during the school year you can find me wandering the gym floor taking pictures of the high school sports activities. Photography is a hobby of mine and I love to share the beauty of my hometown through my lens.
I look forward to meeting you and having the opportunity to show you why I love this place so much. Whether you are looking to sell or buy, I am the life long local resident, looking forward to helping you thru the process.
Tom Duncan
Principal Broker, licensed since 1986
I was born in the Bay area of California and moved to Portland when I was 14. Upon high school graduation I headed to Alaska in my '67 VW Bug, and have loved the state ever since. When I returned to Portland I joined the United States Coast Guard and spent 6 years in the reserve program.
I attended Portland State University and majored in business. My early sales career began in telecommunications, and then I earned my Real Estate license in 1984 and worked in commercial Real Estate selling and leasing industrial properties.  I then earned my Insurance license and spent 10 years selling business insurance to large corporations.
In my heart I knew I always wanted to return to Alaska. In the late 90's Judy and I traveled the inside passage on the ferry system and we both fell in love with Wrangell on a sunny winter day. We returned to Portland and shortly thereafter sold my book of business to the firm and bought a home in Wrangell.
Due to land use regulations in Portland we were forced to return to our 20 acre Christmas tree farm in 2002 and built a home. We started our own business, Oregon Land Realty selling lots, land, and residential Real Estate, while frequently returning to our vacation home in Wrangell.
We moved back to Wrangell to live on the ocean's edge, and I am grateful for this life every day. It is important to me to promote Wrangell and what better way than by starting a Real Estate business. It's why our website is MoveToWrangell.com.
I am the proud Dad of Laura, who works for a logistics company in Florida, and Melissa, who works in Child Advocacy in Oregon.
Memberships include: Chamber of Commerce, Wrangell Elk's Lodge #1595, Muskeg Meadows Golf Club, St. Philips Episcopal Church, and Friends of the Library. I am also an Eagle Scout.
Our goal… is to make the home buying and selling experience enjoyable. Our customers can trust us to be honest, forthright, and work with the highest integrity.
Call us if you are thinking of buying or selling Real Estate in Wrangell.